It's the summertime and little ones are eager to take out their favorite garden toys and have fun. Playing outdoor in a kiddie pool or with toys promotes a sense of exploration and imaginative play in toddlers. Garden toys can keep toddlers busy all-day as they learn about new things around them. From inflatable swimming pools to bubble mowers, here are some of the best garden toys for toddlers to buy.
The List of Top Garden Toys for Toddlers Packed with Unlimited Fun
Here are some of the best picks from our side
1. Little Tikes 2-in-1 Garden Cart and Wheelbarrow | The Best Garden Set
Little Tikes have been excellent at making toys that improve motor skills in toddlers. Just like this beautiful Garden Cart and Wheelbarrow set. It is a common thing for toddlers to follow what their parents do. So this garden set for toddlers could be a great idea to trigger pretend play. Little ones can put their favorite toys in the wheelbarrow and transport them around.
The set also includes a real working water sprinkler to give a realistic feel. There is a removable shade at the top to keep your plants safe from the sunlight. Moreover, there is a plastic tray with basic gardening tools as well. The wheelbarrow itself is lightweight and easy for toddlers to push around in the garden. This outdoor gardening set makes up an ideal birthday gift for a 2 years old toddler.
2. Intex Dinoland Inflatable | Best Mini Pool for Garden Play
What else could be better on a blazing summer day for kids other than jumping in a kiddie pool and splashing water. This toddler swimming pool features a moveable Dino Arch water sprayer that can be attached to a water hose. The pool comes with a small slide and bunch of other fun things to do (ring toss, hoops, and ball trail).
Intex Dinoland Inflatable pool packs all the fun to beat the heat of a lazy summer day. It is made up of high-quality and non-toxic materials. The only thing you need to set it up is an air mattress pump which unfortunately isn't included in the box. Other than this, it is an ideal garden set up for toddlers to keep them busy all day long.

3. Little Tikes Easy Score Basketball | Toddler Outdoor Sports Toy
This outdoor basketball hoop can be adjusted from 2.5 feet to 4 feet for little ones to score more baskets without aiming too high. The set includes a wide rim and 3 basketballs to refine motor skills and coordination among toddlers. To prevent the hoop from falling, you can fill it out with sand for more stability.
This basketball hoop is a must-have if you have a garden in your backyard. Parents can also set a match with their little ones and play along with them. The hoop is height adjustable and easy to assemble, this makes it an ideal choice for growing toddlers. And if you find trouble setting this thing up, you can see the instruction guide to set it up in minutes. A great garden sports toy for toddlers to practice their basketball skills.
4. Splashin'kids 68″ Sprinkle and Splash | Best Garden Playmat
This Sprinkle & Splash Playmat is made up of high-quality PVC plastic to withstand the jumps and humps of your little one. The water sprinkle makes this play mat more fun for kids. All you need is to attach the water sprinkle to the water hose, and that's it. You can increase or decrease the water pressure to adjust the height of the water spray.
The 68″ diameter of this playmat is good enough to accommodate more than 3 kids at the same time. Many parents had admired this playmat in terms of price and quality. Just take it out of the box and fill it with water to have fun right away. There is no need of of attaching a vacuum pump to this thing as it does not require air to inflate.
The adjustable splash sprinkler in this playmat is absolutely fun for kids of all ages. The playmat feels super strong and durable and is very roomy for kids to enjoy without waiting for their turn. No assembly required and a great outdoor playmat to have fun in the sun for all family.
5. Step2 Naturally Playful Sandbox for Outdoor Fun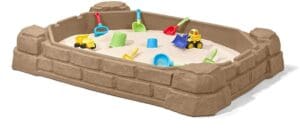 Toddlers love playing with sand all day long. This is one of the best-reviewed sandboxes for kids packed with a lot of fun. The sandbox comes with four seats at all corners to promote sharing and coordination among kids as they share their toys. It is perfect for small gardens and has a natural color scheme to seamlessly match your backyard aesthetic.
The sandbox can hold up to 200 lbs of sand and has a lid to keep unnecessary items out of the playground. If you need a sandbox that doesn't need any assembly, then this one is made for you. Sand play is ideal for toddlers to improve their physical development. Pouring sand with a bucket helps in improving hand-to-eye coordination and physical dexterity.
Moreover, sensory sandbox toys help toddlers in developing social skills as they team up with their play mates.
6. Step2 Rain Showers Splash Pond| Best Water Table for Garden Play 
Water tables are ideal for enhancing fine and gross motor skills in toddlers. Having toys like a water table in your garden can keep your little one busy all day. Step2 Rain Showers Splash is here to create a mini-waster park right in your backyard. This water table comes with maze-pieces, spinners, rams, and buckets for unlimited fun.
Kids can scoop the water from pool through large bucket and then pour it into the tray at top. This activates the rainfall effect as the water tickles into the pond beneath. Water table can hold up to 4 gallons of water and is wide enough for multiple play.
It is a great and entertaining outdoor water table with multiple places for toddlers to play. It is sturdy, easier to clean and assemble for parents. You can also use this table indoors if there is bad weather outside.
7. Fisher-Price Bubble Mower | The Best for Toddlers Who Love Outdoor Play
This bubble mower from Fisher-Price is ideal for toddlers to mimic their parents. Little ones will love mowing the lawn along with bubbles blowing out in the air. This smart toy makes a realistic sound of cutting grass as your kid pushes it forward in the garden. Among all of the best garden toys for toddlers, this one is highly preferred by parents.
This lightweight toddler bubble mower works on all kinds of surfaces like sidewalks, driveways, grass, and concrete. The sound of the motor is realistic and the bubble popping out is an extra bit of fun. Lastly, you don't need any batteries to operate this bubble mower.
8. Little Tikes Gas 'n Go Mower
Gas n Go Mower is an ideal garden toy for a toddler to imitate their adults. This realistic-looking mower lets your little one fill the gas tank, pull the cord, and start cutting the grass in the garden. It makes real mechanical sounds of cutting grass, therefore, you don't need any batteries.
If your little one is passionate about decorating the garden, then this cute lawnmower is ideal to gift him on coming birthday. Garden toys like these promote a sense of responsibility in toddlers.
How to Choose the Right Garden/Outdoor Toys for Toddlers
Here are some factors to consider before making any purchase.
Age
Not all toys are meant for all ages. Some toys are too complex for toddlers to understand, therefore, parents need to choose the toys that are in accordance with the age of their kid for better development.
Learning
Always opt for the toys that provide along with just having fun. Go for toys that enable them to learn and discover new things, sounds, textures, or a hobby. Sensory toys like the one meant for outdoor play are great learning and exploring at the same time.
Safety & Durability
Kids love to put toys in their mouth. So makesure the toys that you are going to buy are made up of non-toxic materials. In addition, it is wise to look out for toys that are durable. You don't want to end up buying toys that need replacement after one week.
Verdict
Finally, buying the right garden or outdoor toys for toddlers isn't difficult if you know what your little one loves the most. We highly recommend toys like Little-Tikes Garden Cart and Fisher-Price Bubble Mower as these trigger sense of responsibility in toddlers to take care of their home. Sandbox and playmat are also ideal to promote sharing and caring among toddlers.