We outreached some of the certified occupational therapists while searching out for the best occupational therapy toys. And we were surprised to know how playing with toys can help your toddler overcome difficulties they face in day-to-day activities. Providing the right toys can help your little one improve his fine and gross motor skills along with reaching other developmental milestones. So, in this guide, we will list products that are beneficial for a child's physical and mental health.
One of the most common problems that toddlers go through is the lack of ability to learn. So, opting for toys that can provide fun and learning at the same time can work like a charm for toddlers facing mental or physical problems. During our research we found that many occupational therapists highly recommend toys like tweezers, shape sorters, suction cups, magnetic blocks, etc for toddlers facing any developmental issues.
The List of Best Occupational Therapy Toys
Here are top-rated toys that are highly recommended by therapists
1. Learning Resources Count & Color Choo Choo
This playful number recognition toy from Learning Resources is ideal to boost visual perceptual skills in toddlers. The set includes colorful pieces that help early learners master shape, number, and color recognition in a go. It also helps in improving the shape sorting and fine motor skills of toddlers as they load the blocks back into the train.
This trainset also gives room for imagination to your toddler. The cars are easy to connect and disconnect for little hands. Last but not least, this set is made up of non-toxic material. We highly recommend this toy to help children learn about counting, sequencing numbers, matching shapes, and learn about basic colors.
2. Play-Doh Modeling Compound
Kids love playing with mud and there isn't anything better than Play-Doh for them to craft their imagination. These 10 cans of colorful Play-Doh are ideal for strengthening hand muscles and improving fine motor skills. Made up of non-toxic and non-allergic compounds, this Play-Doh set is completely safe for toddlers to spark their imagination.
This playdoh comes in different colors and super soft texture. It feels softer and is easy for little hands to mold into different shapes.
Experts highly recommend Play-Doh set as an occupational therapy toy for toddlers with developmental delay. Toys like these empower toddlers to build a physical picture of stories in their minds. It gives them the freedom to express themselves, which in real life is hard for them to say.
3. SQUIGZ from Fat Brain Toys
SQUIGZ is ideal for toddlers who are facing hand-to-eye coordination issues. These little fun suckers improve visual-motor skills as well as hand strength. These sets of 24 SQUIGZ can be connected to each other or any non-porous surface. Suction toys like these are great for boosting creativity in kids. Kids can easily join and take them apart without any extra effort.
Toddlers can join them and then stick their creativity to any surface around the home. The cups are made up of 100% BPA-free material and leave no marks or residue on the surface where you attach them. Suction toys are great for toddlers going through occupational therapy. As your little one uses his hand to attach and detach cups, this helps him improve fine motor skills.
Just stick these suction toys to a bathtub, kitchen cabinet, granite floor, or car window and let your toddler have fun with it. You can pack all of these 24 pieces and take them on a family trip as well. SQUIGZ are the best occupational therapy toys for toddlers with hours of play every single day.
4. Play Tunnel Kids
Have you seen the kids make a tunnel with pillows and blankets? Well, this play tunnel can be used as an indoor or outdoor toy. This play tunnel helps in strengthening the arm and leg muscles as your little one crawls through it. It is portable, lightweight, and easy to set up.
This play tunnel is excellenf For providing vestibular input to your little one. Toddlers can also use this as a climbing tunnel between couches in a living room. On top of all, it is made up of high quality material, so it won't tear or bend easily if your little one goes rought with it.
5. Fisher-Price Shape Sorter Baby's First Blocks
We love shape sorter toys and always recommend them to parents seeking advice for their kids. Not only these toys allow hand to eye coordination but also strengthen problem solving and fine motor skills. The Fisher-Price Baby's First Block lets your toddler to learn about basic shapes and colors.
All of the 10 colorful blocks are easy to grasp and hold for little hands. It shows up as an excellent toy for occupational therapy in toddlers that not only offers learning but lots of fun as well. The bucket and shapes are made up of non-toxic materials. We praise the sturdy build quality of the blocks which makes them ideal for practicing fine motor skills.
6. Zoom Ball for Occupational Therapy
There are tons of benefits if your toddler is playing with a Zoom Ball. Toys like these help in strengthening the upper body, improve body posture, motor planning, and coordination in toddlers. It also helps your toddler to improve visual coordination as he tracks the ball moving on the line.
Morover, the Zoom Ball requires at least 2 members to be the part of the play. So, your little one can invite his or her friend to take part in the play. This also helps in improving cooperation and social-interaction skills in toddlers.

7. Giant Magnetic Letter Construction
One of the major problem that toddlers face when going through occupational therapy is the ability to write an alphabet properly. The Magnetic Letter Construction from Learning Resources is ideal for improving writing skills and structuring basic alphabets. The set comes with big and bold colorful magnetic lines and curves for shaping alphabets. You can easily attach these magnetic lines and curves on a whiteboard or any other magnetic surface.
8. Skoolzy Lacing Beads for Toddlers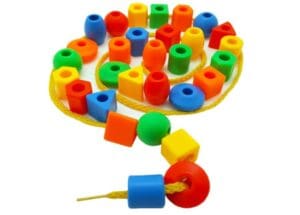 Skoolzy lacing beads are ideal for toddlers to refine motor skills in a go. The set includes 5 shapes and 7 different colors. These colorful beads are helpful for toddlers going through occupational therapy, autism or any related problem. On top of all, beads like these are ideal for improving hand to eye coordination among kids.
The set helps in identifying basic shapes like circle, rectangle, square, triangle, oval, hexagon, and disc. All of these shapes have a large hole in them making them frustation-free for toddlers to stack on. The set comes with 2 lacing threads to promote cooperation in groups and therapy enviornments.
How to Choose the Right Occupational Therapy Toys for Kids with Special Needs
The following steps are useful in finding the right toys
Always consider the individual likes and needs of your kid before choosing any toy.
Always opt for toys that can help in improving or developing fine or gross motor skills.
It is wise to consider only those toys that help in promoting cooperation and sharing among toddlers.
Make sure the toys that you choose are safe and made up of non-toxic materials.
For Toddlers Facing Difficulties in Communication
When a toddler is facing difficulties communicating with parents or other kids, he or she must be offered toys that encourage repetitive movements. Parents should avoid giving toys that are battery-operated and produce light or sounds. Some of the highly recommended toys for toddlers facing autism are:
Blocks (For manipulation and problem-solving skills)
Puzzles (For improving communication and fine motor skills)
Textured blocks and wooden toys
Shape Sorters ( To encourage imaginative play and repetition)
Pull/Ride-on Toys
Play Tunnels
Water tables
Lego ( To trigger creativity)
Which Toys are Best for Kids with Motor Delay
Toys that enable kids to practive motor skills, balancing, and problem solving are:
Bowling sets
Musical Toys
Tunnels
Exercise balls
Crawling Toys