Every kid out there loves to ride on the back of a horse to gallop through their imagination. Ride on horse toys are ideal to let their dreams come true. Riding horse toys can trigger imaginative play in toddlers along with refining physical stimulation and fine motor skills. As a parent, it is a bit harder to narrow down the right toy horse that your toddler needs. But we have done our research to save your time doing it.
List of the Best Riding Horse Toys for Toddlers
Horse toys are available in different types and with features. Some of them have wheels, while others are stationary. If your toddler is old enough, we recommend going with the ride on horse toys that come with wheels. And if your kid has just started sitting on his own, you must opt for the stationary horse toys.
Radio Flyer Blaze Interactive Riding Horse
This cute looking horse performs three actions. It can walk, trot, and gallop as your toddler rides on it. This stationary ride on a horse is ideal for kids weighing up to 60 lbs. It comes with EZ climb steps to get on and off without any efforts. In the box, you will find a comb to brush your horse and a carrot to feed him.
This riding horse toy is safe for toddlers as it comes with four well-apart legs to avoid tipping over. This horse toy is suitable for kids aged 2 to 4 years old. We highly recommend this toy that comes at an affordable price to trigger imaginative play in your kids. It is sturdy and durable, and it responds to your child's movement as he rides on it.
Rockin' Rider Legacy Grow-with-Me Pony
As the name suggests, it's the time to let your toddler grow with this cute looking pony. This horse toy can be converted into a rocker and bouncer as well. And when your child is good enough to maintain his balance, you can offer him ride the spring horse and have fun.
Upon pulling his ears, this horse toy sings and talks to amuze your toddler. This is one of the best plush horse toy that comes with easy grip handles for extra safety. This riding horse toy is suitable for kids between 9 months to 3 years old.
Little Tikes Rocking Horse
We always recommend parents to go for toys that from a reputable brand like Little Tikes. This classic horse toy is made up of durable plastic and non-toxic materials. You can offer these ride-on toys to your kid indoors or outdoors to improve their balance and coordination right away.
It comes with easy-grip handles and a comfy seat for galloping. This is a great bouncing horse toy for toddlers that comes at an affordable price and is safe to ride on.

Inpany Bouncy Horse Hopper
It is one of the most durable horse toys in the market that can handle weight up to 220 lbs. And it is cheaper as compared to other ride on toys in the market. This riding toy is packed with plenty of fun for both toddler boys and girls. It helps in improving the balance and coordination apart from just fun.
This inflated horse toy comes with an air pump to set it up in no time. Although, it lacks the handle grips but kids can hold on to its ears for extra safety. Moreover, this is a toy that we recommend to older kids due to its narrow base.
JoJoPooNy Ride on Unicorn Toy
We really like this lightweight unicorn horse with wheels that give more freedom to your toddler to move around the house. This moveable horse toy just weighs 14 lbs, but it can hold weight up to 77 lbs due to high build quality. There are footrests attached so that toddlers can easily get on and off.
Moreover, the simple mechanics of this horse toy is appealing for toddlers who want to gallop all day long. This unicorn horse toy has a very plush feeling to it, and the comfy saddle on the top makes it worth buying without any doubts in the mind. Although this riding horse toy can be used indoors, we still prefer giving it to your little one outdoors as it comes with wheels.
It is easy to assemble and use within minutes. Simply, an ideal ride on toy that you can gift to a toddler boy or girl.
Qaba Kids Plush Toy Rocking Horse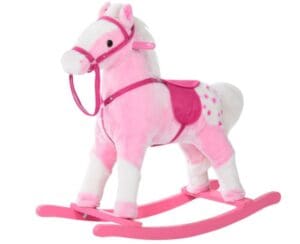 One of the ride on horse toys for toddler girls, we might say at this point. It makes natural galloping sounds as your little girls ride on it. And it is made up of soft and plush non-toxic materials to give a comfy ride to young riders. On top of this, the smooth rocking runners give your toddler a feeling as they are riding a real-life horse.
This ride on toy gives unlimited bump and fun to kids aged 2 to 4 years old. It comes with a sturdy build quality to last for years. This plush horse toys is an ideal birthday gift for toddlers who are eager to put their feet into a saddle. When little one presses its ears, it neighs and makes natural sounds.
PonyCycle Toddler Riding Horse
With a weight capacity of 88 lbs, this is one of the most realistic ride on horse toy for toddlers. It is super easy to assemble without any technical help. This ride on horse toy can be used both indoors and outdoors for unlimited fun. It is an ideal riding toy to boost imagination and creativity in toddlers.
It improves balance and coordination as your little one enjoys riding on it. Moreover, the plush fabric on the top makes the ride comfortable for long hours. This toy pony gives your toddler a real riding experience that he or she will never forget. This ride on pony is easy to ride and soft to touch and is ideal for kids aged 2 to 5 years old.
While riding indoors, this horse toy easily move on hard floors, but it struggles a little bit on carpet. Little ones will love to work on their muscles to move this little fella.
Rockin' Rider Coffee Stable Horse Ride On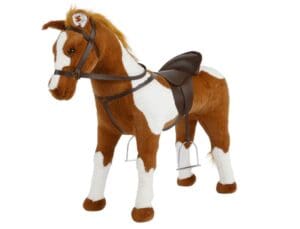 This riding horse toy comes with a sturdy metal frame and realistic saddle for unlimited fun. Just roll its ears to listen to the "I'm a little Pony" song. It comes with 3 intuitive to make riding more fun. The high-quality leather saddle and metal stirrups give it a unique and realistic feel. It is an ideal gift for young horse enthusiasts who are eager to take their first ride.
Just pull the reigns to hear him neigh and pat the snout to hear him snort. Your toddler will love to interact with this ride on horse. On top of this, the plush fabric makes this riding toys irresistable for kids to hug.
Conclusion
Buying riding horse toys for your toddler can help in boosting his confidence, physical growth, fine motor skills, imagination, and sensation like nothing else. Every ride on toy on this list packs the same value, so you can choose any one of these and offer them right away to your kid.