Farm animal toys are popular among toddlers all over the world. Toddlers at this young age are learning about new things. So, gifting them a toy farm set on their first birthday can help them learn about taking care of domestic animals. Choosing the ideal set of farm toys can be a hectic job for parents. So we have listed some of the best toy farm sets for toddlers to gift on a birthday or any other special event.
Toy farm sets are excellent when it comes to learning and boost imaginative play. During our research, we have found toy farms made up of non-toxic plastic and wooden pieces keeping in mind the safety of toddlers.
List of The Best Toy Farm Sets for Toddlers & Preschoolers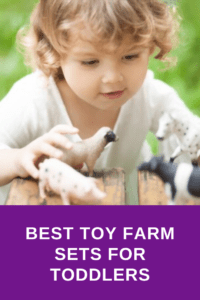 Get your tractors ready, move your wheelbarrows, and get ready to take care of your barn. Here are some of the top recommendations from our side.
1. Melissa & Doug Fold & Go Barn Toddler Animal Playset
Melissa & Doug is one of the most trusted toy brands in the market. This portable double-story barn set comes with seven plastic farm animals like a goat, sheep, horse, pig, turkey, cow, and a dog. It also has a wooden ladder and a folding corral to give your farm a realistic look. It is an ideal animal farm set to boost creativity and learning in your kids.
The wooden barn set also has sliding doors to let little farmers move their animals in and out of the farm easily. You can also keep your animals in separate stalls as well. The barn comes with a wooden handle at the top to put your toys inside it and carry them anywhere you want. Moreover, the folding corral can be molded into different shapes like squares or triangles.
2. KidKraft Wooden Farm Train Set For Kids
KidsKraft animal farm train set gives your toddler more freedom to transport animals from one place to another. The set includes 75 durable wooden pieces to build your farm in your own style. This triggers imaginative play and creativity in toddler as they build their barn and train track.
All the wooden toys in this set are made up of timber wood, completely safe for your kids to interact with. If your little child loves adorable animal toys, then this farm set is truly a great choice. The bits are extremely durable, the set has a sturdy construction, and it includes step-by-step instructions to build to your own farm and train track.
3. Fisher-Price Little People Caring for Animals Farm
Our list of best farm sets for toddlers is incomplete without Fisher-Price Caring for Animals Farm. No doubt, this is the only toy brand in the market that promotes fun and learning at a single spot. The Little People Barn is full of lights, music, songs, and phrases to boost learning in toddlers.
Toddlers can now interact with animal farm in multiple ways. Pressing the discovery button activated the fun phrases, lights, and music. The set comes with a toy farmer and 4 different domestic animals. This is a great way to encourage compassion and imaginative play in kids. Little ones will also learn about the sounds of different animals and fun phrases.
4. LEGO Juniors Mia's Toy Farm Suitcase for Toddlers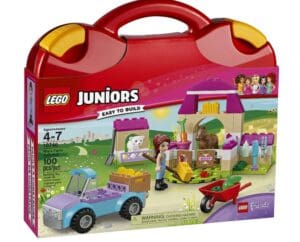 LEGO toys are quite famous among kids all over the world. This easy-to-build toy farm set makes up a great gift for toddler girls. Little ones can build their own vehicle with rear storage to carry important stuff for animals. The set includes a mini-doll figure known as Mia, a foul, and a lamb along with necessary farm elements like a wheelbarrow, feeding bottle, shovel, flowers, bowls, and hay bales.
We all know that LEGO is an ideal way to trigger creativity in toddlers. The farm set makes your little girl learn about how to care for her animals. If your little girl shows more interest in farm animals, then this LEGO set is definitely for her. It is easy to build and bigger pieces are easy to hold for little hands.
5. VTech Go! Go! Smart Animals Grow and Learn Farm Playset for Kids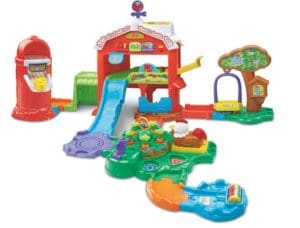 VTech is known for producing highly durable toys in the world. The Animals Learn and Grow Farm set from VTech allows your kid to learn about the numbers, colors, plants, and animals by just pressing a button. The Smartpoint rooster at the top can be turned to 7 different locations to listen to different phrases, sounds, and music.
The set also has a beautiful climbing garden to boost the motor skills of toddlers. Reggie the Rooster speaks the name of different animals and promotes pretend to play in kids. Another great feature of this electronic barn set is that you can sync it with other Vtech GO! GO! toys as well.
The set includes almost 100 phrases and songs to let your kid improve his early education skills as he plays with it. The plant area in this playset helps your kid in shape sorting as well. And the Smart Animals in this farm set sing beautiful phrases, songs, and music when you press the light-up button.
6. TOMY John Deere Animal Sounds Hayride Preschool Toy
This farm playset includes a tractor, a farmer, and four removable farm animals. All the domestic animal toys in this set are made up of high-quality and non-toxic materials. The animals that you can transport on this push-along tractor are a cow, pig, horse, and sheep. By shoving down each animal you can hear the sound that it makes.
By pressing down the farmer, you toddler will hear "Old McDonald had a farm". It is an educational farm animal set that lets your kid learn about sounds of different creatures in a go. Such farm toys are great at triggering imaginative play and developing sense of care for animals.
7. Le Toy Van – Educational Wooden Toy Farm
There are many reasons to include this toy farm on our list. The first one is how realistic this animal farm looks with a large barn and features like a milking parlor, hayloft, and moveable fences. Another reason for having this on our list of best toy farm set for toddlers is because it is made up of high-quality materials and easy assembly.
Unfortunately, the animals and characters are sold separately with this playset. This is something that we really want the manufacturers to include in future playsets. But this animal farm set has awesome details, especially the ladder and pigsty. If you buy separate animals and characters for this farm, you won't regret it.
This is a fantastic wooden farm set worth buying for independant play and to learn about animals. It is an ideal toy farm set for a 2 year old toddler or a preschooler. The wooden pieces are easy for small hands to hold and put together. The animal toys that are sold seperately have a bit dull color to them. But if your main concern is to let your kid learn about the animals, you can go with this set.
8. Plush Creations Plush Farm Animals for Toddlers
This adorable set of plush farm toys for toddlers shows up as a great birthday gift. The set comes with cute stuffed animals that pronounce their name and make realistic sounds when you hug or squeeze them. This stuffed animal barn includes a stuffed cow, horse, lamb, and a rooster.
Upon squeezing each animals will first introduce itself and then make a real-life sound. Each stuffed animal in this farm set is 5-inches long and easily packs inside the plush barn. The portable plush barn has 7x7x9 inches dimension. This make this plush farm lightweight and easy to carry anywhere you want.
We advise you not to put these plush animal toys inside the washing machine or else you will lose the sound feature. This plush farm set is made up of soft and non-toxic materials that are safe for toddlers in case they put them in the mouth.
9. Learning Resources Farm Animal Counters
Well, this bottle from Learning Resources include 60 domestic animals to boost creativity and imaginative play in kids. Within the bottle you will find six pieces of each animal like pig, horse, goat, dog, donkey hen, rooster, sheep, ram, and cow. We really liked the realistic look of animals when compared to others on our list.
The animals are also classified in to male and female gender to improve grouping and classification skills in toddlers. This animal farm playset is highly recommended for group play to promote cooperation among kids.
The Final Words
Farm toy sets are popular among toddlers of all ages. Animal farm toys are ideal to educate and amuse your toddler at the same time. To be honest, all of the playsets that we have listed in our guide hold similar values, that is to let your kid learn about animals and care for them. However, the one that is highly recommended from our side is Fisher-Price Little People Caring for Animals. It has tons of features like sounds, lights, music, and phrases that help in the early education of your toddler apart from just having fun.